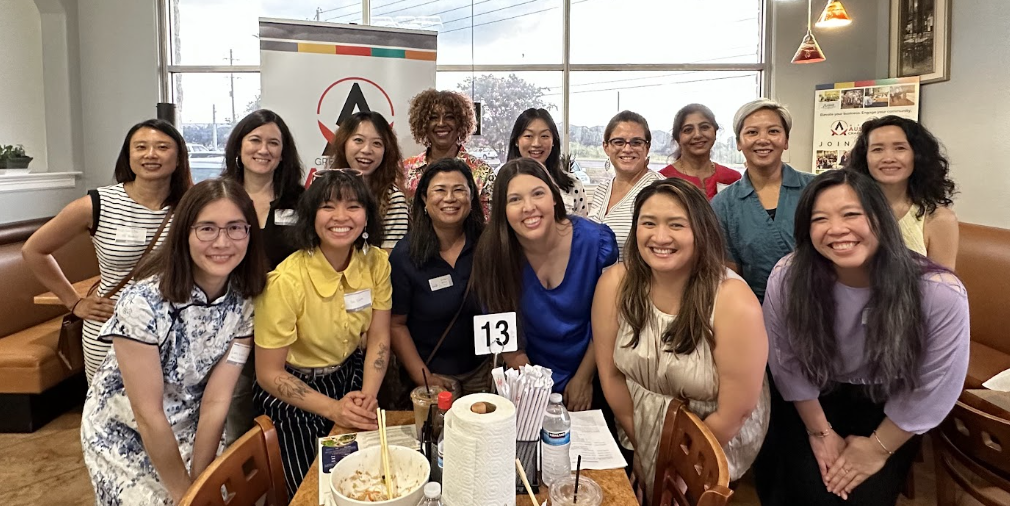 Our June Women's Club meeting was an intimate affair where members and guests alike got to enjoy a delicious lunch from Fresh Bowl ATX and engage with our speaker, Vidhyu Rao from Kandha Consulting, on the topic of resilience. Meeting participants, all minority women, were able to connect and share their own experiences of resilience in a world that at times simply does not feel made for us. The conversation facilitated empathy, compassion, and above all, strength among all the women. It was a beautiful thing to see. 
[Check out more photos from the meeting in our Facebook gallery HERE]
Vidhyu first led the conversation by opening up about hardships she's experienced that made her question herself and her dreams. She opened the discussion to the other women in the room, asking if anyone else had ever felt anything similar. Little by little, participants found the confidence to express their own life experiences that had left them questioning themselves. Each story was unique, but they all shared how they grew from it and became even tougher.
These stories are important to us at Austin's Asian Chamber! That's why we conduct these Women's Club meetings; because we want to hear your voice, help support your connections, and grow together. If these kinds of open discussions interest you, reserve your spot for the next meeting on August 18th where we will learn about "Personal Branding: Bringing Your Full, Authentic Self Into Your Business & Workplace" featuring Emily Rollins, Owner of Town Square NW Austin. RSVP HERE.
Thank you to everyone who joined us for this month's meeting and to the Captain of the GAACC Women's Club – Emlyn Roesler, Founder of Solid Soaps – for organizing this event. We hope to see you next time!