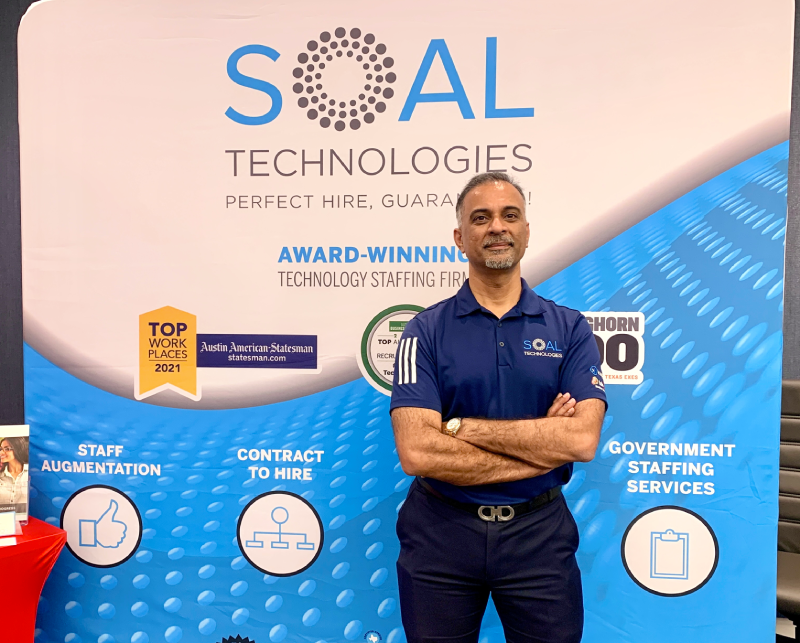 Congratulations to Ahmed Moledina for being nominated as Best CEO by Austin Business Journal
Austin, 8/30/2023 — SOAL Technologies, Kupplin Healthcare Staffing, and Tekberry are proud to announce that Founder and CEO, Ahmed Moledina, has been nominated for the prestigious "Best CEO" award by the Austin Business Journal. With a steadfast commitment to innovation, outstanding performance, and a remarkable career accomplishment within the past year, Moledina exemplifies the qualities that this accolade represents.
As an alumnus of the University of Texas and, Moledina has consistently demonstrated his dedication to both professional excellence and community growth. His transformative leadership style has guided SOAL Technologies to the forefront of the technology staffing industry, fostering innovation and driving success for clients and partners alike.
The "Best CEO" nomination is a testament to Moledina's outstanding achievements and commitment to pushing boundaries. Under his leadership, SOAL Technologies has achieved significant milestones, contributing to the enhancement of Austin's tech landscape. Moledina's impact goes beyond the corporate realm, extending to philanthropic, civic, and political spheres. As Immediate Past Chair and Executive Committee member on the Greater Austin Asian Chamber of Commerce Board of Directors, Moledina's dedication to community development and mentorship programs has empowered individuals and catalyzed positive change.
"I am deeply honored to be nominated for the 'Best CEO' award by the Austin Business Journal," Moledina expressed. "This nomination reflects the collective effort of the incredible team at SOAL Technologies and our shared commitment to innovation, growth, and community engagement. I am excited about the future possibilities as we continue to make a meaningful impact."
The Austin Business Journal's "Best CEO" award acknowledges leaders who have not only achieved remarkable success within their industries but have also demonstrated a far-reaching influence beyond their immediate professional roles. The nomination underscores Moledina's ability to inspire and lead across various facets, making a lasting mark on both the
business landscape and the community.
For more information about SOAL Technologies and Moledina's impactful leadership, please visit www.soaltech.com or contact Ali Tejani (Head of Marketing) [email protected] 
About SOAL Technologies:
A longtime Corporate Partner of the Greater Austin Asian Chamber of Commerce, SOAL Technologies is a leading technology staffing and recruiting firm headquartered in Austin, Texas. With a focus on fostering innovation and building lasting partnerships, SOAL Technologies connects top-tier talent with cutting-edge companies to drive impactful solutions. Guided by the visionary leadership of Founder and CEO Ahmed Moledina, SOAL Technologies continues to push the boundaries of excellence in the technology industry.